yoste roast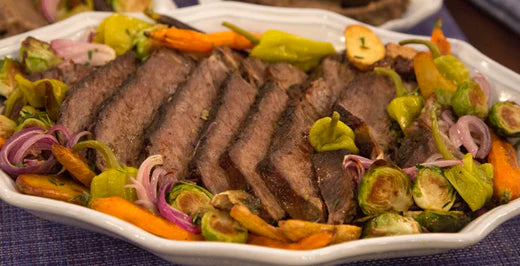 Inspired by, Elizabeth Heiskell
Serves: 6
Prep Time: 15 mins.
Cook Time: 7 hours.
Skill Level: easy
Cooking Method: Slow Cooker
ingredients:
4 pound boneless chuck roast
1 teaspoons table salt
1 teaspoon black pepper
2 tablespoons canola oil
1, 6 ounce envelope zesty Italian salad dressing and seasoning mix
1, 6 ounce jar pepperoncini peppers, undrained
4 ounces salted butter, softened (optional)
Sprinkle of thyme if desired
instructions:
Step 1 - Pat the roast dry with paper towels; sprinkle with the salt and pepper.
Step 2 - Heat the oil in a large skillet over high; add the roast and cook until browned, about 2 to 3  minutes on each side. Place the roast in a 5- to 6-quart slow cooker.
Step 3 - Sprinkle the seasoning  mix over the roast. Pour the pepperoncini peppers and liquid over the roast. Top with the butter, if desired.
Step 4 - Cover and cook on low until roast is very tender, about 8 hours, or on high, about 5 hours.
Step 5 - Remove the roast from the slow cooker with a slotted spoon. Serve with roasted root vegetables.
grandpa's thoughts:
Now. What I love to do, is to forget serving this roast with vegetables, but instead I shred the roast with a fork and then put the meat back into the slow cooker with juices. Then I use the shredded roast for making sandwiches for the family. I pile it high on a roll, put cheese on top, put it in the broiler, and serve it with the juice for dipping. Essentially, it's another French dip recipe, but it doesn't have to be. Either way, its flavor and tenderness are always a favorite with our family!
|
Posted on March 11 2023