grandpa bacon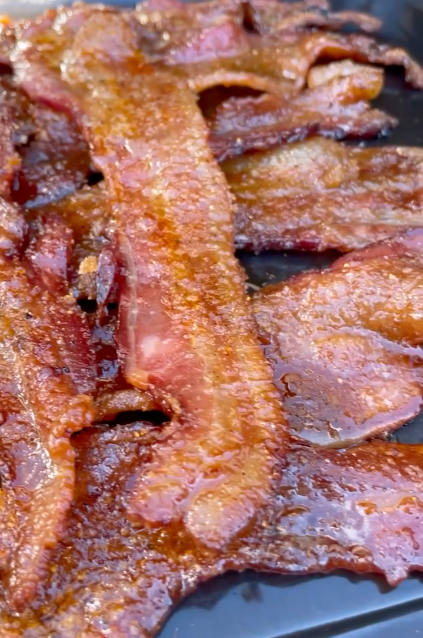 Inspired by, recteq recipes
Prep time: 15 mins. Cook time: 2 1/2
Skill level: easy
Cooking method: smoker / gas grill or oven
ingredients:
1lb. thick cut bacon
1/2 cup brown sugar
1 tbsp favorite sweet rib rub 1/8 tsp cayenne pepper
1/4 cup maple syrup
instructions:
Step 1 - Combine brown sugar, favorite sweet rib rub, and cayenne pepper.
Step 2 - Lay bacon strips on a grill mat, leaving a little space between strips.
Step 3 - Brush top sides of bacon with a light coating of maple syrup and generously sprinkle brown sugar mixture on each strip.
Step 4 - Cook on smoker/gas grill or oven at 225°F for 1 hour.
Step 5 - Remove bacon from grill/oven, flip, and give the untreated side of each piece of bacon a brush of maple syrup and sprinkle of brown sugar mixture.
Step 6 - Return bacon to grill/oven and cook at 225°F for 1 hour. Step 7 - Cool for 30-60 minutes.
grandpa's thoughts:
This will take some time, but well worth it for special breakfast occasions. You can omit the cayenne pepper for a less spicy option. You can cook this ahead & warm it later in the microwave or a warm oven. However, it's so good you can even eat it at room temp!
I think it's a must for grandpa's popularity.
|
Posted on August 18 2023