sweet & spicy honey-glazed chicken with spinach salad and dressing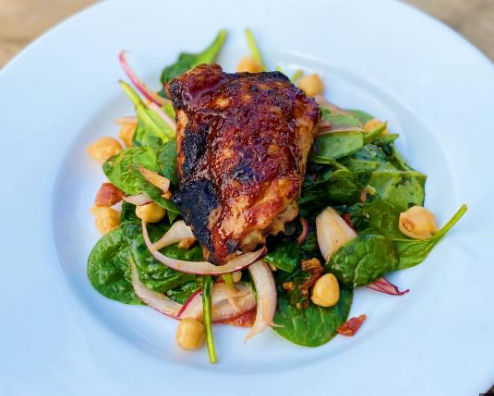 Download PDF
Inspired by, Michael Symon
Serves: 4 to 6
Prep Time: 30mins.
Cook Time: 30 mins.
Skill Level: Easy
Cooking Method: Grill or Oven 
ingredients:
Chicken:
2 1/2 pounds chicken (I'm using bone-in thighs)
1 tablespoon olive oil 
1 teaspoon favorite spice mix 
Kosher salt and freshly ground pepper
2 tablespoons honey
2 tablespoons mustard (I'm using spicy brown mustard)
2 tablespoons soy sauce

Spinach Salad:
1 pound leafy greens (I'm using baby spinach)
One 14-ounce can beans, rinsed and drained (I'm using chickpeas or)
1/2 cup sliced red onion 
4 strips bacon, diced 
1/4 cup dry cranberries
1/4 cup white wine vinegar
1 tablespoon honey 
1 tablespoon mustard spicy brown mustard
1 tablespoon ketchup
instructions:
Step 1) For the chicken: Preheat a grill or oven to 450 degrees F. If using a gas grill, set to medium-high heat on one side and low on the other side. If using a charcoal grill, bank hot coals on one side of the grill.
Step 2) Brush the chicken with the oil and season with the spice mix and a liberal amount of salt and pepper. Put the chicken on the hot side of the grill bone-side down, close the lid and cook for 3 to 4 minutes.
Step 3) Meanwhile, whisk together the honey, mustard and soy sauce in a small bowl.
Step 4) Flip the chicken, brush with the glaze and grill for 1 to 2 minutes. Move the chicken to the cool side of the grill bone-side down and apply the remaining glaze. Close the lid, open the vents halfway if using a charcoal grill and continue to cook until the chicken registers 160 degrees F in the thickest part, 15 to 20 minutes longer. If using the oven, place the chicken bone-side down on a baking sheet and roast, brushing with the glaze occasionally, until the chicken registers 160 degrees F in the thickest part, 25 to 30 minutes.
Step 5) For the spinach salad: In a medium bowl, mix together the spinach, chickpeas, onions, cranberries, onion, in a large bowl; set aside.
Step 6) Put a heavy-bottomed skillet on the hot side of the grill, add the bacon and cook until crisp.
Step 7) Whisk together the vinegar, mustard, honey and ketchup in a small bowl. Remove the skillet from the heat and mix add the mixture to make a warm dressing.
Step 8) Pour the dressing over the greens and toss together. Transfer the greens to a platter and top with the chicken. 
grandpa's thoughts:
 We just love this chicken recipe and make it year around. You can mix up the salad recipe and just put together a salad you have in the frig. You will love the dressing. 
|
Posted on February 23 2023