crispy-thin chocolate chip cookies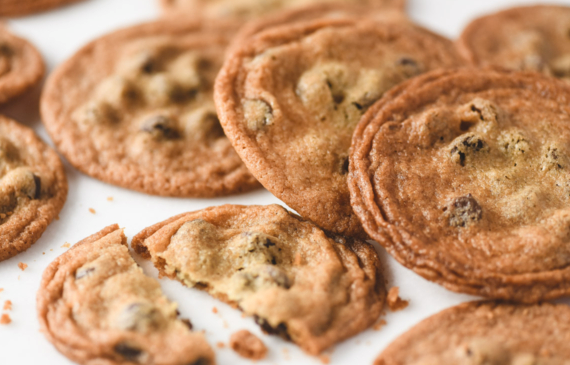 Inspired by, The Food Network & BCG
Serves: about 36 cookies
Prep Time: 50 mins
Ready In: 15 mins
Skill level: Easy 
Cooking method: Mixer and Oven
ingredients:
1 cup all-purpose flour
1/2 cup fine pastry flour
2 1/4 teaspoons kosher salt 
1 teaspoon baking soda 
1 stick (8 tablespoons) unsalted butter, softened 
2 tablespoons Lard
1/4 cup vegetable oil 
3/4 cup granulated sugar 
1/2 cup packed dark brown sugar 
1 tablespoon pure vanilla extract 
2 large eggs, at room temperature 
One 12-ounce bag semisweet chocolate chips 
instructions:
Step 1) Arrange racks in the upper and lower thirds of the oven and preheat to 350 degrees F. Line 2 baking sheets with parchment paper.
Step 2) Whisk the flour, salt and baking soda in a medium bowl until completely combined. Beat the butter and lard, oil, granulated sugar and brown sugar in the bowl of a stand mixer with the paddle attachment (or a large bowl if using a hand mixer) on medium-high speed until creamy, about 5 minutes. The mixture will look broken but that's ok. Beat in 1 teaspoon water and the vanilla until smooth. Reduce the speed to low and beat in the eggs one at a time until incorporated. Beat in the dry ingredients until just combined. Fold in 1 1/2 cups chocolate chips. Reserve the rest. 
Step 3) Drop heaping tablespoons of the dough onto the prepared baking sheets about 2 inches apart. Lightly press about 3 of the remaining chocolate chips into each cookie.  
Step 4) Bake the cookies until they are a deep golden brown, rotating the pans halfway through, 12 to 15 minutes. Let the cookies cool on the baking sheets for 10 minutes. Then transfer them to a wire rack to cool completely. Repeat with any remaining dough.
grandpa's thoughts:
Regarding the flour: when measuring flour, spoon it into a dry measuring cup and level-off excess. (Scooping directly from the bag compacts the flour.) If you don't have the fine pastry flour, you can simple add 1/2 cup of regular flour.

Regarding the lard: It simple helps make the cookies more flaky. But if you don't have any just proceed with the butter.

When placing the dough on the pan, allow the space between the cookies. Remember, these cookies are meant to be thin and crispy and they will spread out on the pan.

These cookies are inspired by the thin and crispy style made popular by the Long Island bakery Tate's Bake Shop.
|
Posted on February 23 2023