fresh pear pie (filling)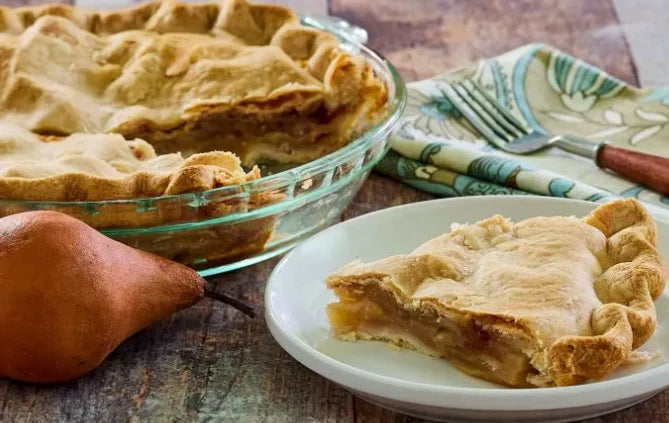 Inspired by, Cool Grandma
Serves: 8
Prep Time: 40 mins.
Ready In: 5 hr 30 mins.
Skill Level: Medium 
Cooking Method: Oven
ingredients:
9 inch pie pan
You will need a crust (see my crust recipe) 
1/2 cup white sugar
3 tablespoons all-purpose flour
1/4 teaspoon salt
1 teaspoon ground cinnamon
1 teaspoon lemon zest
5 cups peeled and sliced pears (6 or 7 pears)
1 tablespoon butter
1 tablespoon lemon juice
instructions:
Step 1) Preheat oven to 350°F. Place a pizza stone on the lower 2/3 oven rack.
Step 2) Combine sugar, flour, salt, cinnamon, and lemon zest in a mixing bowl.
Step 3) Arrange pear slices in layers in the pre made crust (see my crust recipe) pastry-lined pan, sprinkling the sugar mixture over each layer. Dot with butter and sprinkle with lemon juice.
Step 4) Top with remaining dough in strips so the pie can breathe and let out the steam.
Step 5) Bake in the preheated oven on the pizza stone at 350F until crust is golden brown and filling is bubbly, 35 to 40 minutes. Allow to cool several hours before serving.
grandpa's thoughts:
This has been a fun Thanksgiving tradition for several years for us. Of course we have pumpkin pies, but it's nice to have a few different varieties.

Grandpa Note: get the pears early in the week so that they can ripen.
|
Posted on March 09 2023