bbq whiskey spice sliders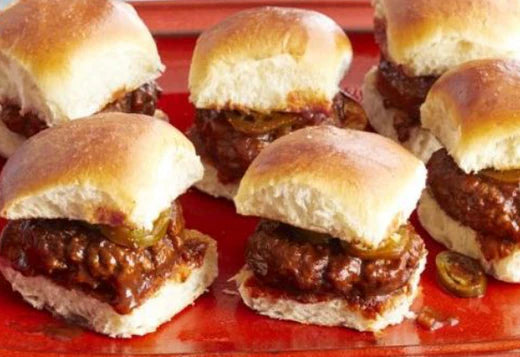 Inspired by, Whitney Romney
Serves: 6
Prep Time: 15 mins.
Cook Time: 15 mins.
Skill Level: easy
Cooking Method: Stove top with 12 inch. cast iron skillet
ingredients:
2 pounds ground meat
salt & pepper
4 tablespoons butter 
1 large onion, diced
1/4 cup whiskey of choice. 
1/2 cup BBQ sauce
1/4 cup jarred jalapeños, slices (fresh will works)
12 whole slider buns (Kings Hawaiian are great)
instructions:
Step 1 - Form the meat into 12 (or so) miniature patties and salt and pepper them on both sides.

Step 2 - Melt the butter in the skillet over medium-high heat and cook the patties until just about done in the middle, about 3-4 minutes per side. Remove the patties from the skillet and set aside. Drain off all but 2 tablespoons of the grease, then return the skillet to the stove.

Step 3 - Throw the diced onions in the skillet and stir to cook, about 3 minutes. Pour in whiskey and stir. Allow the whiskey to reduce by half, about 2 to 3 minutes, then stir in the jalapeños and bbq sauce.

Step 4 - Turn the heat to low and place the patties in the bbq sauce, turning to coat. Allow the patties to simmer in the sauce until everything's hot and bubbly.

Step 5 - Place the patties on the buns and spoon extra sauce (with jalapeños!) over the top of each patty.
grandpa's thoughts: 
You can also add some cheese to the patties before you take them out of the skillet. 
As a side dish, you can serve with macaroni salad and some cut up fruit.

It works, because you can cook it quickly and it has BIG flavor.

BTW, this works great for an appetizer.
|
Posted on April 06 2023