cherry bbq sauce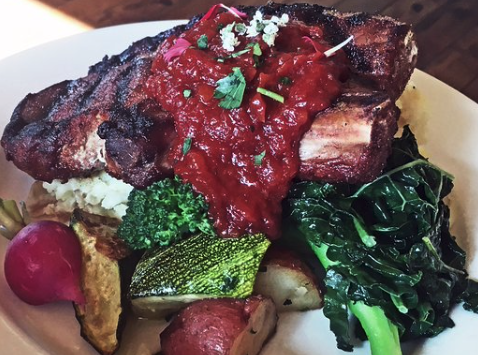 Inspired by, Hell's Backbone
GrillPrep time: 30 mins.
Cook time: 1 hr.
Skill level: easy
Cooking method: Cooktop / Saucepan
ingredients:
6 cups ketchup
3/4 cup cider vinegar
3 tablespoons Worcestershire sauce
3 tablespoons soy sauce
2 cups brown sugar
3/4 cup coarse ground mustard
2 tablespoons New Mexico chili powder
1 teaspoon cayenne
1 medium onion, diced small
4 cloves garlic
2 teaspoons canola oil
1 lemon, in quarters, peel and all
3 cups chopped and pitted fresh sour cherries and /or apricots

instructions:
Step 1) Combine all ingredients in a medium saucepan over medium-low heat. Simmer for 1 hour, stirring often to keep sauce from sticking. Sauce will be rich, fragrant, and think. Remove lemon quarters before serving. 

grandpa's thoughts:
Hell's Backbone Grill in Southern Utah is one of our favorite restaurants. It's an experience that will create a great memory.
Use this sauce in the last 5 to 10 minutes of grilling meats; it's amazing with pork or chicken.
This is easy and very tasty. Make for a great neighborhood Christmas gift. Just saying!




|
Posted on September 05 2023