hootenanny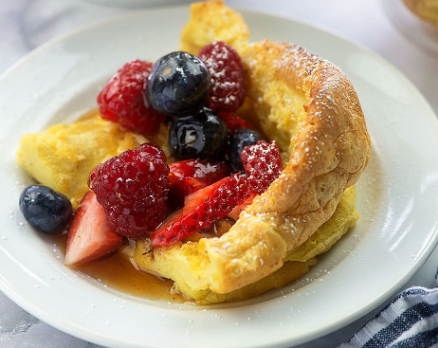 Inspired by, Cool Grandma
Prep time: 20 mins. Cook time: 12 mins.
Skill level: easy
Cooking method: Oven 425 degrees
ingredients:
6 eggs, lightly beaten 1 stick of butter
1 cup of milk
1 cup flour
1 tablespoon - salt
1 tablespoon - vanilla extract 2 tablespoons - cinnamon
Step 1 - Preheat the oven to 425 degrees F.
Step 2 - Crack the eggs and put them in a blender. Slowly pulsate the eggs, then add the milk, flour, salt, vanilla and cinnamon.
Step 3 - In a 9x13 baking dish, melt the butter in the oven on a center rack
Step 4 - Slowly pour the mixture in the hot pan and cook for about 15 minutes or until its puffy and brown.
This has all the ingredients for a fun and delicious grandpa recipe. Some people have called this German pancakes. But for some reason Cool Grandma started calling it Hootenanny. Our kids love it and our grandkids are now hooked on Hootenanny.
|
Posted on August 18 2023