maple salmon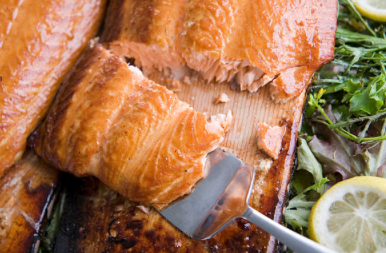 Inspired by, Grandpa's Family
Serves: 4

Prep Time: 15 mins.
Cook Time: 20 mins.
Skill Level: Easy
Cooking Method: Outdoor Indirect Smoker
i
ngredients:
1/4 cup maple syrup
2 tablespoons soy sauce
1 clove garlic, minced

1/4 teaspoon garlic salt
1/8 teaspoon ground black pepper 1 pound salmon
instructions:

Step 1 - In a small bowl, mix the maple syrup, soy sauce, garlic, garlic salt and pepper. Step 2 - Place salmon in a shallow glass bake dish, and coat with maple syrup mixture. Step 3 - Cover the dish, and marinate salmon in the refrigerator for 30 minutes, turning once.
Step 4 - Preheat oven/grill to 400 degrees F
Step 5 - Place the baking dish in the preheated oven, and bake uncovered for 20 minutes, or until easily flaked with a fork.
grandpa's thoughts:
I like to cook it in the pellet smoker at 400 degrees F. It gives it just a little smoke flavor. Place the salmon on a foil sheet and let it cook for 20 to 30 minutes or until easily flaked with a fork.
|
Posted on February 03 2023