meatballs -sweet & sour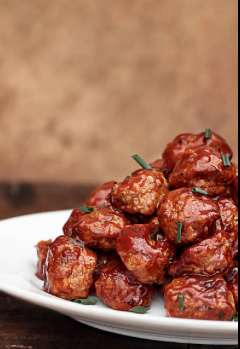 Inspired by, Be Cool Grandma
Prep time: 20 mins. Cook time: 30 mins.
Cooking method: Oven @350
ingredients:
meatballs:
2 lbs lean ground beef

1 cup rolled oats

2 eggs, slightly beaten

2/3 cup onion, finely chopped (or 1/4

cup dehydrated onion.

1 1/4 tsp salt and pepper

1 1/2 tsp. Worcestershire sauce

2/3 cup milk
sauce:
1 cup brown sugar

1/2 cup vinegar

2 tsp. Yellow mustard

1/2 cup favorit BBQ sauce

2 tsp. Worcestershire sauce

1 tbsp chives for garish
instructions:
Preheat oven to 350 degrees.
meatballs:
Step 1 - Combine and hand-mix, ground beef, oats, eggs, onion, salt & pepper, Worcestershire and milk.
Step 2 - Form into balls about 1 1/2 inch. In diameter
Step 3 - Place meatballs in (2) 9 x 13 inch casserole dish, single layer. You will make about 54+ meatballs.
sauce:
Step 1- In a bowl, combine brown sugar, vinegar, mustard, bbq sauce, Worcestershire.
Step 2 - Pour the mixture over the meatballs. Step 3 - Bake at 350 degrees for 30 minutes.
grandpa's thoughts:
This goes great with rice or pasta. It also makes a wonderful appetizer when you serve it with cubed cheese with a toothpick.
If you make some extra they freeze nicely for a rainy day or a quick dinner.
|
Posted on October 17 2023