one-pan mediterranean cod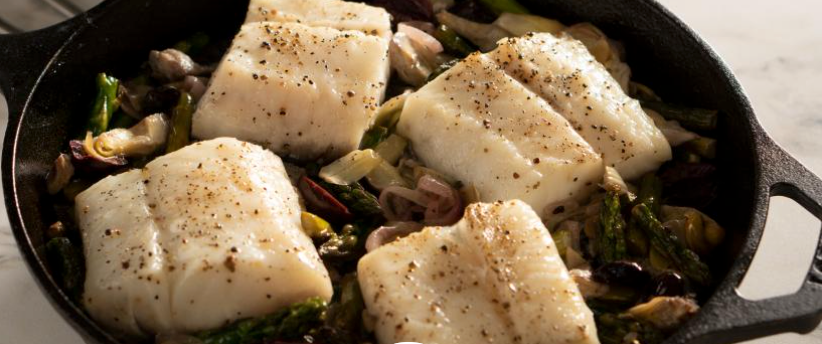 Inspired by, Valerie Bertinelli
Prep time: 15 mins Cook time: 20 mins
Skill level: Easy. I love one pan meals.
Cooking method: 10" skillet for stove top and oven.
ingredients:
Four 5-ounce pieces cod

Kosher salt and freshly ground black pepper
2 tablespoons extra-virgin olive oil

1 pound asparagus, trimmed and cut into 2-inch pieces

1 shallot, sliced into rings

2 cloves garlic, peeled and sliced

One 13.75-can artichoke hearts, quartered

1/3 cup kalamata olives, halved

1 tablespoon capers

1/4 cup dry white wine

3 tablespoons lemon juice

Lemon wedges, for serving
instructions:
Step 1) Preheat the oven to 400 degrees F.
Step 2) Season the cod on all sides with salt and pepper and set aside. Heat a 10-inch cast-iron pan over medium-high heat. Add 2 tablespoons olive oil and swirl to coat the pan. Add the shallot and garlic and cook, stirring, until softened and lightly browned. Add in the asparagus, artichoke hearts, olives and capers. Cook, stirring frequently, until the garlic is fragrant, about 1 minute. Add in the wine and let it reduce slightly, about 1 minute. Add in the lemon juice.
Step 3) Gently nestle the cod into the vegetables. Transfer the skillet to the oven and cook until the cod easily flakes apart, 15 to 20 minutes.
Step 4) Plate the cod and vegetables and spoon any juices from the bottom of the pan over the fish. Garnish with lemon wedges and serve.
grandpa's thoughts:
This is so delicious and full of flavor. Plus, I love one pan meals. It works great with a side of rice or Penne Pasta.
I've served this many times and always get positive comments.
|
Posted on November 10 2023