sautéed green beans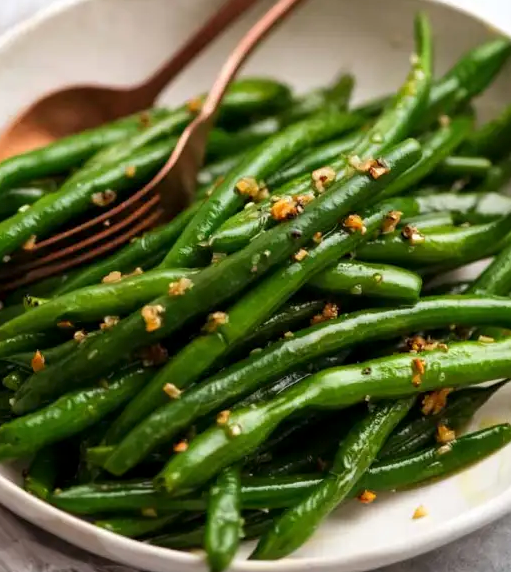 Inspired by, 100 Techniques 
Serves: 4
Prep Time: 10 mins.
Cook Time: 10 mins.
Skill Level: easy
Cooking Method: cooktop, skillet with lid
ingredients:
1 tablespoon butter
2 garlic cloves, minced
1 teaspoon minced fresh thyme
1 teaspoon vegetable oil
1 pound green beans, trimmed and cut into 2-inch lengths
1/4 teaspoon table salt
1/8 teaspoon pepper
1/4 cup water
2 teaspoons lemon juice
instructions:
Step 1 - Combine butter, garlic, and thyme in a bowl. Heat oil in a 12-inch skillet over medium heat until just smoking. Add beans, salt and pepper and cook, stirring occasionally, until spotty brown, 4 - 6 minutes.

Step 2 - Add water, cover, and cook until beans are bright green and still crisp. About 2 minutes

Step 3 - Uncover, increase heat to high, and cook until water evaporates, 30 - 60 seconds. Add butter mixture and cook, stirring often, until beans are crisp-tender, light browed, and wrinkle, 1 to 3 minutes. Off heat, stir in lemon juice and season with salt and pepper to taste. Serve and enjoy!


grandpa's thoughts:
Why this recipe works. Green beans perfectly illustrate how adding water helps when sautéing chewier, firmer vegetables. For crisp-tender beans with just the right amount of char, I like to sauté the beans and oil until they turn spotty brown and then add a little water to the pan and cover it so the beans could steam and cook throughout.

This cooking method works with other, less watery vegetables, like broccoli or asparagus. Give it a go and see what comes.
|
Posted on February 23 2023