simple pan fried pork chops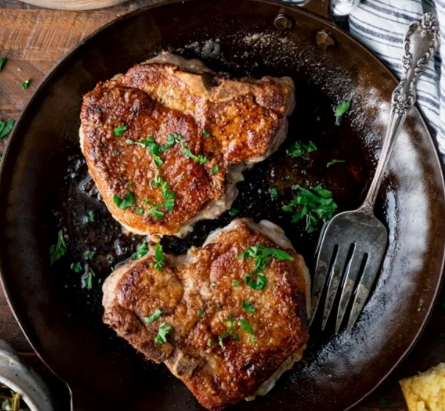 Inspired by, Ree Drummond
Serves: 6 to 8
Prep Time: 25 mins.
Cook Time: 25 mins.
Skill Level: Easy
Cooking Method: Cast Iron Skillet 
ingredients:
1 teaspoon seasoned salt, plus more for seasoning
1 teaspoon ground black pepper, plus more for seasoning
8 single bone-in pork chops
1 cup all-purpose flour
Cayenne pepper
1/2 cup canola oil
1 tablespoon butter
Smashed new potatoes, for serving
instructions:
Step 1 - Salt and pepper both sides of the pork chops.

Step 2 - Combine the flour and some cayenne, salt and black pepper. Dredge each side of the pork chops in the flour mixture, and then set aside on a plate
Step 3 - Heat the canola oil over medium to medium-high heat. Add the butter.
When the butter is melted and the butter/oil mixture is hot, cook 3 pork chops at a time, 2 to 3 minutes on the first side. Flip and cook until the chops are golden brown on the other side, 1 to 2 minutes (make sure no pink juices remain). Remove to a plate and repeat with the remaining pork chops.

Step 4 - Delicious and simple! Serve with smashed new potatoes.
grandpa's thoughts:
This is so simple and so good!

Your grandkids and family will love these. I serve them with some apple sauce and smashed potatoes.


|
Posted on February 09 2023