turkey bacon noodle soup grandpa style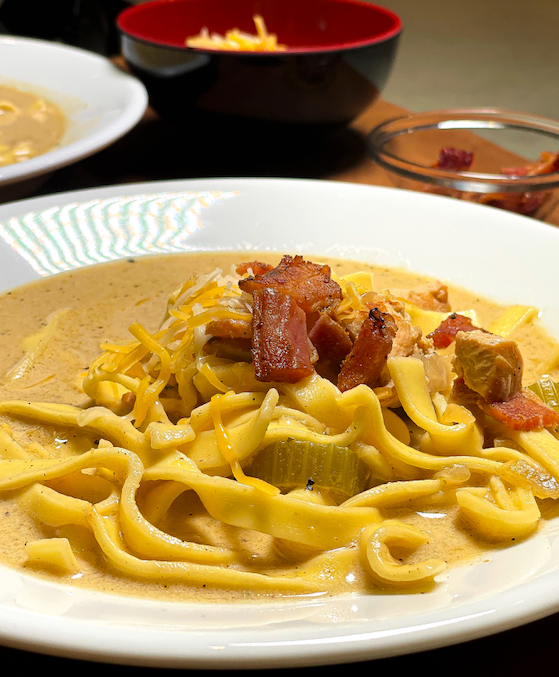 Inspired by, Be Cool Grandpa
Prep time: 30 mins. Cook time: 1 hour+
Cooking method: cooktop
ingredients:
olive oil

salt & pepper

3 cups turkey pieces

8 slices bacon, thick-cut

3 medium carrots, sliced

3 celery ribs, sliced

1 large sweet onion, diced

1 medium red onion, diced

3 garlic cloves, minced

2 quarts turkey stock

1 cup whole milk

1 cup heavy cream

3/4 cup cream cheese, softened

1 (ounce) packet ranch dressing

mix

10 ounces egg pasta noodles

1 1/2 cups mild cheddar cheese,

grated
instructions:
Step 1 - Heat a 10 inch skillet, (my preference is cast iron) to a medium heat, then add some olive oil to the pan.
Step 2 - Cook the bacon until slightly crispy, then set aside on a plate.
Step 3 - In the meantime slice the carrots and celery, dice the onions, and mince the garlic cloves.
Step 4 - In the same skillet that you cooked the bacon, lower the temp to medium low heat and remove all but two table spoons of the bacon grease.
Step 5 - Deglaze the skillet with 1 cup of turkey broth. Then mix the carrots, celery, onions, and garlic in the skillet. Keep cooking, scraping turning the veggies until tender, about 4 minutes.
Step 6 - In a pre-heated stock pot to medium low heat, add the cooked, mixed veggies, turkey stock, milk, heavy cream, cream cheese, ranch dressing mix, chicken, and bacon (hold out some bacon for the topping when serving).
Step 7 - Bring to a boil, stirring occasionally. Then reduce the heat to low and let simmer for 1 hour.
Step 8 - Cook the egg pasta noodles separately. (note: I only cook enough noodles for the number of people that will be eating. This way the noodles won't feel soggy for the next meal).
Step 9 - Add the cooked noodles to the soup stock. Or, if you want to save some stock for another day, you can add the smaller amount of cooked noodles to the bowls and then pour the stock over the noodles. Again, this avoids soggy noodles.
Step 10 - Serve warm, with a topping of bacon bits, grated cheese and a big smile:)
grandpa's thoughts:
We are always looking for ways to use the turkey leftovers and turkey soup is a great way.
Yep, this is basically the same recipe as my Chicken soup.
|
Posted on November 21 2023