grilled salmon with honey glaze and tomato relish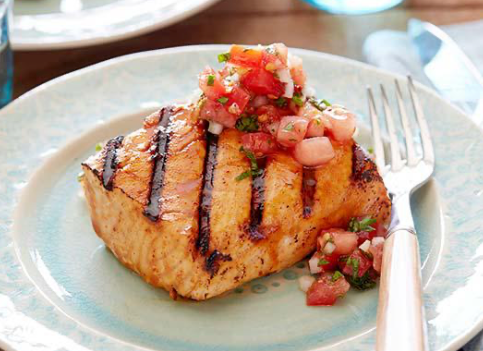 Inspired by, Bobby Flay
Cooking Method: Outdoor Grill or Oven
i
ngredients:
Salmon
4 salmon fillets, 6 ounces each
1 cup sherry vinegar
2 tablespoons Dijon mustard
1/4 cup honey
1 tablespoon Worcestershire
sauce
1 tablespoon ancho chile powder
Salt and freshly ground pepper, to taste
Spicy Tomato Relish
2 medium ripe tomatoes, chopped
2 tablespoons finely diced Spanish onion 2 tablespoons chopped parsley
1 teaspoon red pepper flakes
1/4 cup red wine vinegar
1/4 cup olive oil
Salt and freshly ground pepper, to taste
instructions:
Step 1 - In small saucepan over high heat, reduce vinegar to 1/4 cup. In mixing bowl, combine vinegar syrup with mustard, honey, Worcestershire and ancho chile powder and season to taste with salt and pepper. Let rest 30 minutes. Preheat grill. Brush salmon with the glaze and grill 3 minutes on each side. Serve with Spicy Tomato Relish.
Step 2 - For the Spicy Tomato Relish: Combine all ingredients in a bowl and season with salt and pepper to taste. Serve at room temperature.
grandpa's thoughts:
Winner, winner salmon dinner:) This is the best recipe for a quick salmon dinner. If you are serving it to someone who isn't a huge fan of salmon try this recipe and you will win them over. The tomato relish completes the dish.
It's fun a a Summer dish when you don't have a lot of time to cook something. My advice is to go to the store and get the ingredients and keep them around for when you are in the mood for some great salmon.
|
Posted on August 19 2023