molded cranberry sauce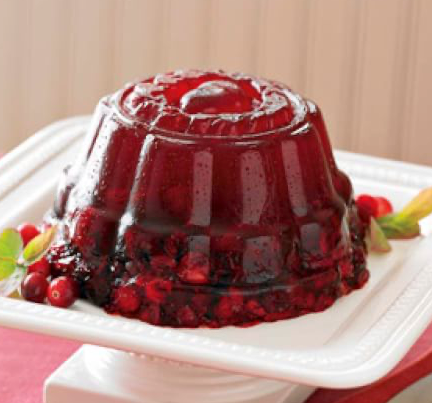 Inspired by, William Sonoma
Prep Time: 10 mins. Cook time: 15 mins. + 8 hours refrigerate
Skill Level: easy
Cooking Method: Cooktop, Large sauce pan with lid
i
ngredients:
1lb fresh cranberries
1 cup plus 2 Tbs. Sugar
Zest of 2 oranges
2/3 cup fresh orange juice pinch of salt
2/3 cup cold water
Pinch of salt
2/3 cup cold water
1 envelope unflavored gelatin
instructions:
Step 1 - Lightly coat a 4-cup mold or Bundt pan with nonstick spray.
Step 2 - In a large saucepan over medium-high heat, bring cranberries, sugar, orange zest, orange juice, salt and 2/3 cup water to a boil. Reduce heat to medium-low; simmer, stirring occasionally, until cranberries have burst, about 15 mins.
Step 3 - Meanwhile, pour 2 tablespoons water into a small bowl; sprinkle with gelatin. Let stand until gelatin softens and swells, 5-10 mins.
Step 4 - Spoon 1/2 cup juices from cranberries into gelatin stir to dissolve. Stir gelatin mixture into cranberries mixture, then pour into prepared mold; cool to room temperature. Cover loosely with plastic wrap; refrigerate at least 8 hours or up to overnight.
Step 5 - To unfold, dip mold into a large bowl of warm water so water reaches almost to the rim of mold. Remove from water; run small paring knife or spatula around inside of mold. Invert mold onto platter, shack gently and lift off mold.
grandpa's thoughts:
This is a big hit with the family. You should make this a day ahead. I've made this every year for Thanksgiving and the cranberry and orange flavor ready smells wonderful.
Your family will thank you!
|
Posted on August 19 2023