skillet broccoli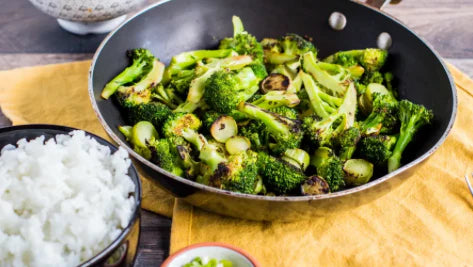 Inspired by, 100 Techniques
Serves: 4
Prep Time: 10 mins.
Cook Time: 10 mins.
Skill Level: Easy
Cooking Method: cooktop, skillet with lid
ingredients:
3 tablespoons extra-virgin olive oil, divided
2 garlic cloves, minced
1/2 teaspoon minced fresh thyme
1 pound broccoli, cut into 1-inch pieces
1/4 teaspoon table salt
1/8 teaspoon pepper
1/8 cup water
instructions:
Step 1 - Combine butter, garlic, and thyme in a bowl. Heat oil in a 12-inch skillet over medium heat until just smoking. Add broccoli florets downside, salt and pepper and cook, without stirring , until beginning to brown, about 2-4 minutes.

Step 2 - Add water, cover, and cook until broccoli is bright green but still crisp. About 2 minutes. Uncover and cook until water evaporates, 30 - 60 seconds.

Step 3 - Clear center of the pan, add garlic mixture, and cook, mashing mixture into skillet, until fragrant, about 30 seconds. Stir garlic mixture into broccoli. Transfer to dish and season with salt and pepper to taste.


grandpa's thoughts:
Why this recipe works. The usual problem with sautéed broccoli is getting the core to cook through before the delicate outer beds overcook can fall apart. This technique solves this problem. First, we browned the broccoli for a color, then we quickly steamed it to cook it through, and finally we sauté it with some garlic for boost in flavor.

Note: You will need a skillet with a tight fitting lid.


|
Posted on March 11 2023