DIY elephants toothpaste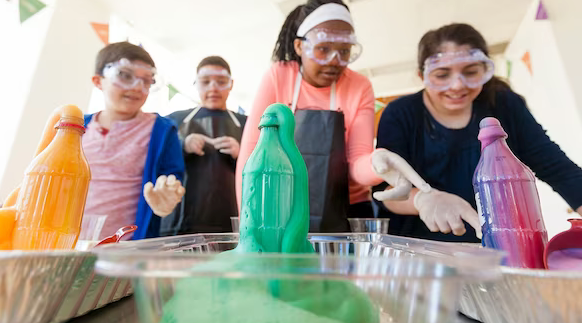 Time: 30 mins
Skill level: medium
items:
Safety Goggles 
½ cup 20-volume hydrogen peroxide -6% solution (get at beauty supply store or hair salon)
1 Tablespoon of (one packet) dry yeast
3 Tablespoons of warm water
1 tablespoon liquid dish soap
Few drops of favorite food coloring color 
Small cup
Warm Water
A Cylinder  (soda bottles) 
instructions:
1.    Hydrogen peroxide can irritate skin and eyes, so put on those safety goggles and ask an adult to carefully pour the hydrogen peroxide into the bottle.
2.    Add 8 drops of your favorite food coloring into the bottle.
3.    Add about 1tablespoon of liquid dish soap into the bottle and swish the bottle around a bit to mix it.
4.    In a separate small cup, combine the warm water and the yeast together and mix for about 30 seconds.
5.    Now the adventure starts! Pour the yeast water mixture into the bottle (a funnel helps here) and watch the foaminess begin!
 
grandpa's thoughts:
So, you're going to be the hit of the party when you make Elephants Toothpaste. But be warned it's messy and you're going to need to have extra ingredients so you can do it over and over and over and over and over again. Be cool grandpa!
|
Posted on February 16 2023