spinach tortellini soup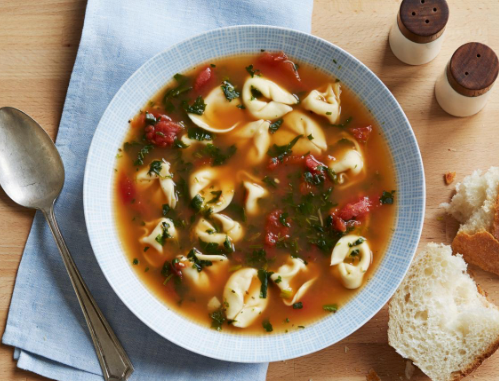 Inspired by, Food Network
Prep time: 15 mins. Cook time: 10 mins.
Skill level: easy
Cooking method: cooktop, large pot
6 cups low-sodium chicken stock
1, 9-ounce package cheese tortellini
2 cups-packaged frozen chopped spinach, thawed and squeezed
2 teaspoons minced garlic
One 1 (14.5-ounce) canItalian-style stewed tomatoes
Dried basil, to taste
Kosher salt and freshlyground black pepper
Parmesan cheese, grated, for serving
instructions:
Bring the stock to a simmer in a large pot over medium heat. Stir in the tortellini and simmer gently for 3 minutes. Stir in the spinach, garlic, tomatoes and dried basil. Season with salt and pepper. Return to a simmer and cook for 2 to 3 more minutes. Serve hot with the grated Parmesan cheese.
|
Posted on September 20 2023