fish piccata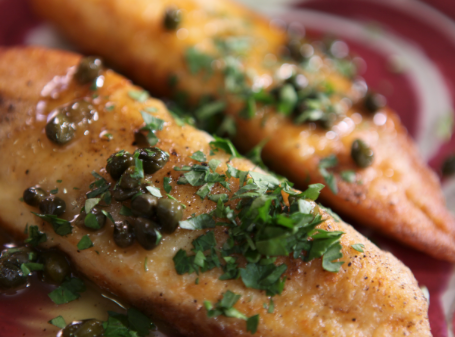 Inspired by, Food Network 
Serves: 4
Prep time: 10 mins.
Cook time: 10 mins.
Skill level: easy
Cooking method: Stove Top, Sauté Pan
ingredients:
2 tablespoons olive oil
4 small white fish fillets (such as tilapia, cod or sole), about 1 pound total
Kosher salt and freshly ground black pepper
1/4 cup flour
1/4 cup white wine
2 lemons, juiced
2 tablespoons capers
2 tablespoons butter
2 tablespoons chopped fresh parsley
instructions:
Step 1- Heat the olive oil in a large saute pan over medium-high heat.

Step 2- While the pan is heating, blot the fish dry with paper towels and season with salt and pepper.

Step 3- Dredge in the flour, shaking off any excess.

Step 4- Saute the fish in the oil until just cooked through, about 4 minutes, flipping halfway through. Remove the fish to a platter.

Step 5- Deglaze the pan with the white wine, whisking for about 1 minute. Add the lemon juice and capers and stir. Add the butter and stir or whisk to incorporate to bring the sauce together.

Step 6- Pour onto the fish and garnish with the chopped parsley.
grandpa's thoughts:
This is so simple and delicious! It goes great with a veggie and some pasta.
Use a fresh white fish. Find one on sell and give it a try. The family will love it.
|
Posted on September 20 2023