winter fruit salad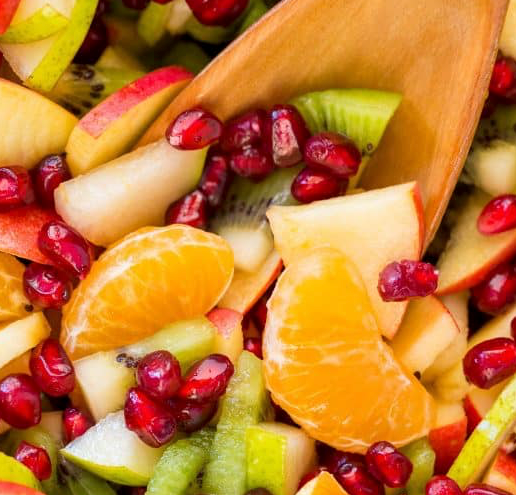 Inspired by, Cool Grandma and Natasha's Kitchen
i
ngredients:
Salad
1 pound (5 count) Clementine oranges, peeled and separated into segments

2 pears, cored and sliced

2 apples, cored and sliced

1 1/2 cups pomegranate

4 kiwis, peeled and sliced
Lemon Lime Syrup
3 Tbsp honey

2 Tbsp fresh lime juice
 -2 Tbsp fresh lemon juice
instructions:
Step 1) In a large mixing bowl combine all of the prepared fruit – 5 segmented clementines, 2 sliced pears, 2 sliced apples, pomegranate seeds, and 4 sliced kiwis.
Step 2) Stir together 3 Tbsp honey, 2 Tbsp lemon juice and 2 Tbsp lime juice, until honey is dissolved. If your citrus was cold and honey is not dissolving, warm it for 10 seconds in the microwave to dissolve easier.
3. Drizzle dressing over salad and toss gently to combine. Serve right away or cover with plastic wrap and refrigerate up to 6 hours.
grandma's thoughts:
The "dressing" is lip-smacking good! It's sweetened with honey so there is no processed sugar here. Everyone will love you for making this.
You'll definitely get a healthy dose of fruit with this salad and you'll be running for a refill! The combination of lemon, lime and honey makes the most amazing salad dressing and it draws out the naturally sweet and tangy flavors in each bite. You will want this syrup on all of your fruit salads!
|
Posted on February 23 2023